Good morning! I am up on the Scrapbook Adhesives Blog today with a Valentine Card! I love trying to use products in different ways than intended. Like these small 3D adhesive squares. Normally they are hidden and out of sight.....but I decided to make them an interesting backdrop to my smaller pink glittered hearts! The lacy heart was cut using a Spellbinder's die and then I peeled the 3D foam squares and placed them along the perimeter. I kept going until the entire heart was filled in. I carefully peeled the tops of them and sprinkled with a pale pink glitter. Although for some reason the glitter looks white in this photo.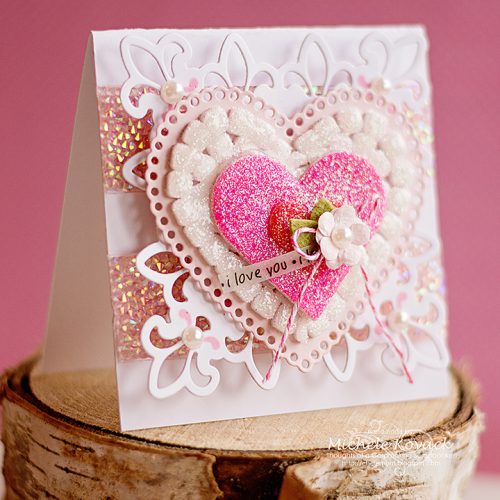 I used two 3D foam hearts for the center and sprinkled those with glitter as well, hot pink and red. I backed the hearts with a pretty lacy square and placed it over two strips of gemstone strips I found at Hobby Lobby. (The Paper Studio makes them)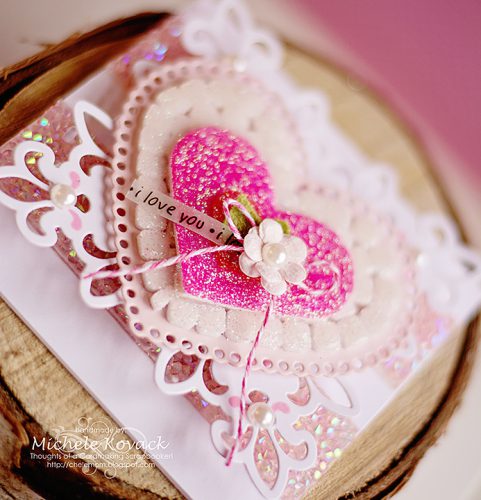 I added a few pearls to the corners, a posy and felt leaves to the smallest heart and a sticker sentiment from SRM. What do you think about those little squares? Don't they remind you of mini marshmallows? Marshmallows and Valentine's Day? Sure! Why not! LOL!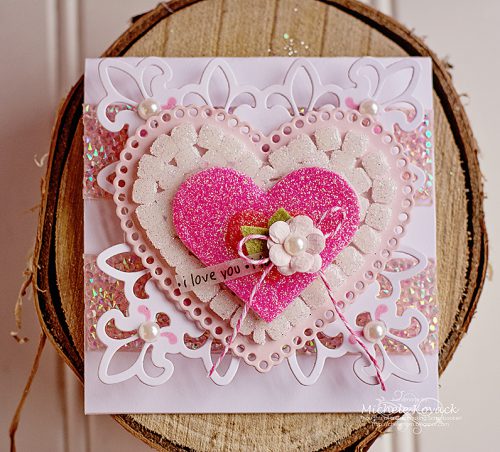 So glad you stopped by! Have a great Tuesday!